Celebrate the gift!
A Christmas Message from the Baptist World Alliance - Celebrate the Gift

Washington (BWA)--The story of the Incarnation is good news that God has come to earth in the form of a human being to walk where we walk, feel what we feel, show us how to live, and offer us the gift of life in its fullness.
When the church celebrates Christmas, what it seeks to do is to plunge into the depth of the mystery of God's amazing love for all creation, to grasp something of the significance of our Lord's identification with us, and to experience anew the marvelous grace by which God makes salvation available.
Over the years, Christians have commented on the nature of the Incarnation, trying to find words to express the magnificence of it. But how can we describe this mystery?
During the fourth century, Gregory of Nazianzen, archbishop of Constantinople, delivered a sermon on the wonder of the Incarnation, in which he declared: "The very Son of God, older than the ages, the invisible, the incomprehensible... the beginning of beginning, the light of light, the fountain of life and immortality ... the definition and word of the Father: he it is who comes to his own image and takes our nature for the good of our nature, and unites himself to an intelligent soul for the good of my soul, to purify like by like. He takes to himself all that is human, except for sin... Holiness had to be brought to [human beings] by the humanity assumed by one who was God, so that God might overcome the tyrant by force and so deliver us and lead us back to himself through the mediation of his Son."
The Incarnation gives expression to the wideness of God's mercy. How thankful are we that God has dealt so lovingly with us as to appear and be born in a human body and in a lowly place?
Isn't it amazing that the one who came to the world as a baby, born in obscurity, is the creator God? As Martin Luther once said of the child in the manger, "You are truly God who has created me, and you will not be angry with me because you come to me in this loving way - more loving cannot be imagined."
If we could grasp, even dimly, the significance of the miracle of the incarnation, we might approach the celebration of Christmas with greater reverence and humility. We would perhaps understand Christ's coming as part of what Charles Spurgeon called "the great enterprise of mercy."
Do we not need to celebrate the fact that we human beings, together with all creation, are the object of the Incarnation?
Let us celebrate the gift!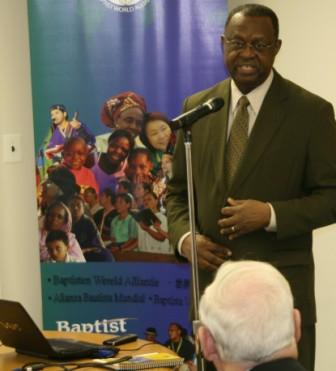 Neville Callam
General Secretary
Baptist World Alliance